The application Sessions Records and Deliberations allows the management of the workflow for deliberations and decisions of government and collegial bodies. Once a Session has been created, structures that have been added as Proposing Structures can submit Deliberation Proposals. When a Deliberation Proposal is submitted, and its has been approved by the Session Manager, the same can consolidate the Agenda of the Session and then forward an Invitation to its members.
The action can be done by the Session Manager that is administrating the Session.
Select Application
From the sidebar menu, select Sessions Records and Deliberations, then access the service Manage as Responsible of the Session - Organization from the list.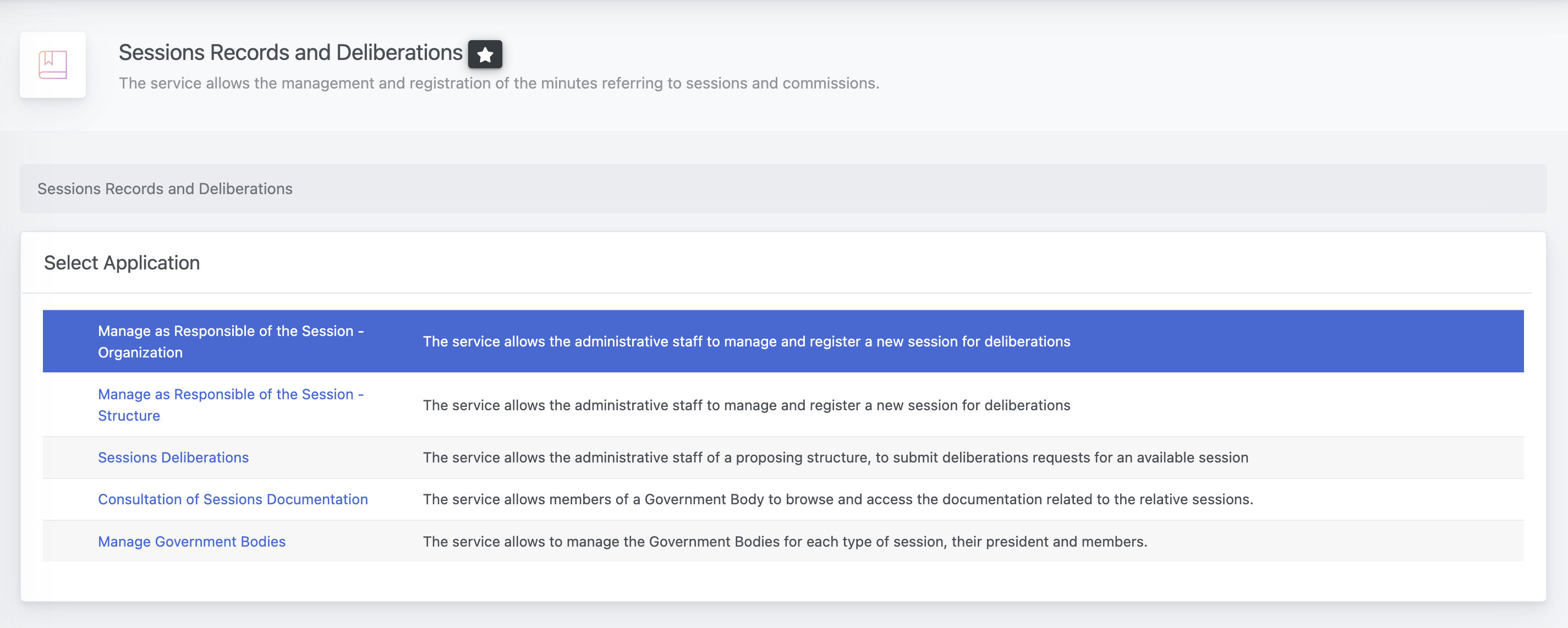 Consolidate the Session Agenda
Once the Session Manager has approved the deliberation proposals received, it is time to consolidate the Agenda of the Session.
To proceed, click on the Manage button.
The page gives the possibility to modify the information of the Session, with some additional options for the consolidation. Before proceeding, it is important to double check all the information and eventually correct them, because they will be used in the following steps.
Two new buttons are now available next to the Proposing and Involved Structures, in order to update the information based on the approved deliberation proposals.

In the upper part, three labels will summarize the status of the submitted deliberation proposals, while a button on the left will confirm all the information and proposals.
You can click on Close Deliberations Management to consolidate the information and proceed to send an invitation and the Session Agenda.
Please note that continuing will close the management of the Proposed Deliberations.
This action will mark all the pending deliberations as not approved, and will allow you to generate the invitation for the Body members.